Sherman High School
Class Of 1968
In Memory
Mary Stuckey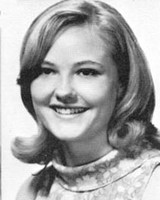 Mary died on 9/9/2015.
Mary Nell Stuckey(1950 - 2015)
WHITESBORO - Mary Nell Stuckey, 65, of Whitesboro, died Wednesday at Texoma Medical Center in Denison.
A funeral service will be held at 10 a.m. Saturday at Meador Funeral Home Chapel. Mike Davis will officiate. A family visitation will be held one hour prior to service at the funeral home.
She is survived by sons, Christopher Ray Hamon of Denison, Jeffrey Neal Hamon of Whitesboro, and Matthew Mohammad Toutouchian of Gordonville; daughter, Melanie Malahay Smallwood of Whitesboro; brother Elmer Lee Stuckey of Leonard; and 11 grandchildren and four great-grandchildren.
In lieu of flowers, memorials can be made to the Juvenile Diabetes Research Foundation, 9400 N. Central Expressway, Dallas, Texas, 75231. Condolences may be registered to
http://www.meadorfuneralhomes.com.
Funeral Home
Meador Funeral Home - Whitesboro

401 HWY 377 NORTH P. O. BOX 754

Whitesboro, TX 76273

(903) 564-3800


Published in The Herald Democrat on Sept. 11, 2015

UA-109528562-1