Sherman High School
Class Of 1968
In Memory
Mike Sisemore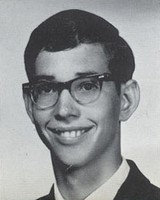 Mike died on 10/7/2011.
Michael Sisemore(1949-2011)
SHERMAN - Graveside funeral services for Michael Paul Sisemore will be held at 12 p.m., Tuesday October 11, at Cedarlawn Memorial Park. Military honors will be provided by the US Army with services under the direction of Waldo Funeral Home. Mr. Sisemore, 62, passed away Friday, October 7, at the Plaza Medical Center in Fort Worth.
Michael was born July 27, 1949 in Sherman to the late Joseph and Ruell (Estes) Sisemore. He graduated from Sherman High School in 1968 and was drafted by the U.S. Army in August 1969. Michael served in Vietnam and was honorably discharged in August 1971. On April 9, 1976, Michael and Nancy Blalock were married in Sherman. Mike worked at Texas Instruments for 25 years until his declining health forced his retirement. He was very artistic and enjoyed drawing.
Mr. Sisemore in survived by his wife of 35 years, Nancy of Denison; one daughter, Kathy Sisemore of Denison; four brothers, Johnny, Pat, and Bobby Sisemore, all of Sherman, and Clarence Sisemore of Athens, Texas; one sister, Bertie Mabus of Mineola; and several nieces and nephews.
He was preceded in death by his parents and one sister, Cora Johnson.
The family will receive friends from 6 - 8 p.m., Monday at Waldo Funeral Home.
The register book can be signed online at
waldofuneralhome.com.
Published in The Herald Democrat on Oct. 9, 2011

UA-109528562-1